Are you a stressed-out, overwhelmed, frustrated
stepmom with no free time?
This FREE Ebook Shares How Taking Care of Yourself Strengthens Your Mind, Emotional Well-being and Body As Well As Improve The Quality of Your Life And Relationships
I bet you, as a stepmom, you often find yourself feeling stressed out, overwhelmed and probably frustrated at some of the challenges you face.
I'm also willing to bet that you've probably wondered "What am I doing here?" It's OK. We've all been there, at least once. This doesn't mean that you're an evil stepmom or that you don't love your stepkids or your partner.
It just means that you're probably doing so much for others that you're forgetting about yourself. Today's women have a lot more on their plates than say our moms (or grandmothers.)
We just want to be loving, caring women. And caring of our stepkids has it's unique challenges. Let's face it, many stepkids come with a mom that may or may not like you.
If you are a stepmom that feels like something is missing in your life, emotionally or mentally, physically or spiritually, consider these statistics.
Stress.org reports that 75% of all doctor's office visits are related to stress, and also that stress lies at the foundation of 60% of all human disease and illness
Chronic stress can lead to depression, and raises your risk of developing heart disease by a staggering 40%
An unhealthy diet, often including convenient, time-saving but unhealthy drive-through fast food lunches and dinners, is linked to obesity, diabetes, heart disease, neurological disorders, skin conditions, breast cancer and an increased risk of dying from anything
The American Psychological Association says women are more likely to develop mental or physical stress than men, and this can lead to emotional, mental, physical and spiritual health problems
Stress and anxiety promote an overabundance of cortisol and other hormones and chemicals that lower feelings of happiness, and increase negative emotions
Stepmoms often neglect caring for themselves and this leads to stress and poor lifestyle habits which deliver a long list of poor health conditions. That poor health and well-being leads to more stress, and an endless cycle of negative health feeds upon itself.
What's ironic is that loving and caring stepmoms are often those that neglect themselves the most. They feel they need to give it their all in order for their stepkids to love them.
Here's what I think: you're doing them a disservice by not taking care of yourself. All kids learn by our actions. We are their role model. By neglecting yourself, you're teaching your stepkids how to treat you. I'm sure that's not what you want.
If you're goal is to have strong and healthy relationships with your stepkids along with your partner, then you need to start to take better care of yourself.
And here is where you can start.
Let This FREE EBook Be Your Guide
Self-Care For Stepmoms Why Caring For Yourself Will Transform How You See Your Relationships, One STEP At A Time
In this definitive guide on total health and well-being created for stepmoms, you will discover…
60 self-care tips and best practices proven to deliver concrete health results you can measure and appreciate (pages 23 through 27)
The very real and costly price of not caring for yourself (pages 7 and 8)
Why you shouldn't leave your physical, emotional, mental and spiritual growth and well-being up to anyone but yourself (page 21)
Why you absolutely, positively have to start asking for and demanding help today (page 10)
How spontaneity can beat stress, deliver an "I feel good about myself" mentality, and a positive mental state (page 20)
The common roadblocks to self-care that stepmoms sometimes create themselves (pages 9 through 14)
The art of giving yourself permission to be healthy and well (page 10)
The simple mental approach that attracts health and wellness like a magnet (page 15)
Why you should never apologize for putting yourself first (page 18)
And much much more
You truly can create the best you that you have ever experienced when you know specific actions you can take that lead to health and well-being in every aspect of your life. You don't need to be that stereotypical stepmom who's so busy that stress, anxiety and self-doubt are frequent companions.
As a Stepmom, it's time you stopped feeling overwhelmed, stressed out and invisible and start feeling peaceful, put together and fulfilled.
And you can achieve this by taking care of yourself first.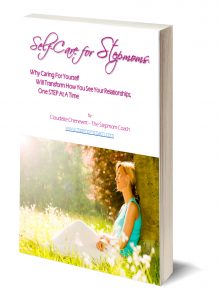 Download your FREE Ebook now so that you can get starting today!
All the information you need is right here, just a few clicks away.
You owe it to yourself, and your loved ones to…
Begin taking care of yourself today, not tomorrow
Avoid burnout
Avoid overwhelm and exhaustion
Think of your best possible life, with inner peace and calm along with physical, mental and emotional health.
A NEW AND BALANCED YOU
Imagine what it looks like. Experience it in your mind.
What do you see? How do you feel?
How big is the smile on your face?
Come on Stepmom, do it for yourself. You deserve it. And the best part is that it's instant and it's FREE!
GET YOUR Ebook  TODAY!