Stepmom's Book of Boundaries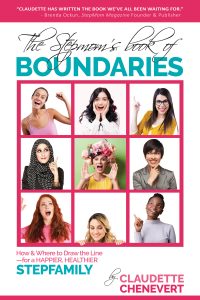 It's finally here! The book I wish I had when I became a stepmom is now available for all of you to read, learn and enjoy.This is the book I want all stepmoms to have when they're struggling in creating and building strong and healthy stepfamilies; the book I know every stepmom needs.
What's missing in your stepfamily?
If you're in a stepfamily, you may feel as if something is missing. You can't put it into words yet, but you know it's a problem. Maybe you're new to this. Maybe not. Still, everything from badly-behaved exes to parenting rifts causes squabbling that disrupts the harmony in your home. The Stepmom's Book of Boundaries helps you thrive despite rocky relationships, schedule snafus, and more. Stepmom MagazineContributor and Master Certified Stepfamily Coach Claudette Chenevert provides clear explanations, humorous insights and exercises to help you pave a path to healthier boundaries and more enforceable House Rules—for your own version of the white-picket-fence dream.
Boundaries are often an area of contention for many stepmoms and their relationship their stepkids, her partner and his ex. In my new book, I give you tangible ways of creating strong and healthy boundaries so that you may enjoy dinner and heal relationships, one STEP at a time.
Available on Amazon.com 
One Woman's Journey Into Becoming a Stepmom
 Audio Session & Transcript

Kim never imagined that becoming a stepmom would be the most difficult thing she would do but if she wanted to make her new marriage a success, she new she need help. Kim is a successful entrepreneur and enjoyed life but couldn't understand what her role was in this new family.
Listen as Claudette and Kim talk about managing a new family, dealing with transitions and what was it that made the biggest impact in Kim's relationship with the stepkids. $9.95 NOW! Free Download
Words of Hope, Inspiration and Wisdom for Stepmoms
A little extra TLC for the days that seem to be the hardest

My first published mini book that will help you get through times when you feel like being a stepmom is just too hard, when you're wondering what to do or simply need a bit of encouragement.
Get your FREE copy HERE. My gift to you, from one mom and stepmom to another.
3 Keys to Surviving Stepfamily Life
60-Minute Audio Session

As a stepfamily, two or more members of your new family are dealing with issues of loss or abandonment (from death, divorce, or desertion) in addition to the normal family struggles. Don't ignore this dynamic or try to make everything right. Give yourselves the needed time and space to deal and heal. In this 60 minute recorded seminar, you'll discover:
What sets you apart from first-time married couples why it's important
Steps to get you moving in the direction of success
Ways to build and strengthen the family bond
What other stepparents discovered that helped them feel more relaxed and able to be themselves and enjoy being a part of their new family
Purchase now for just $9.95


How To Be a Successful Stepmom
eWorkbook & Audio Session

Chances are that being a stepmom isn't as easy as you thought it would be. In this 60-Minute recorded seminar Claudette explores how to be a successful stepmom, and includes lots of great information and tips. After listening to the audio session, Claudette uses the eWorkbook to guide you through a series of questions designed to give you clarity and help you move forward towards the goal of being a successful stepmom. Remember, all exercises are private unless you decide to share them with someone.