I'm not a big TV watcher, but I do enjoy movies, especially when it comes to the Holidays. There's something special and magical about them, don't you think?
As a kid, I'd watch Miracle on 34th Street, It's a Wonderful Life, and A Christmas Carol – of course, all in black and white. Many of the old classics have been remade into newer, more modern versions of the holiday spirit.
For myself, these classics remind me of what the true meaning of the Holidays are. It's not about the gifts you give or receive, how you many cookies you made, or if your house is ready to entertain. It's about time spent together, creating memories for today and for days to come.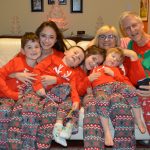 My grandkids haven't seen these classics. It might even be too scary for them. That's fine. They have their own favorite holiday movies which include The Polar Express and The Grinch Who Stole Christmas.
So as we get ready for our annual Camp Gramaire, awaiting our seven grandchildren — our cups of hot coco with three tiny marshmallows floating on top, all cuddled in warm fuzzy blankets, we want to invite you to create holiday memories of your own, to enjoy today and for years to come.
Here are some of my fellow stepmoms' favorite movies. Which ones do you enjoy watching? Don't see your favorite here? Let us know in the comments below and I'll add it to our list.
Elf
Die Hard
The Holiday
Home Alone
The Muppets
Love Actually
Polar Express
White Christmas
Four Christmases
A Christmas Carol
The Santa Clause
Miracle on 34th St.
It's A Wonderful Life
Home For The Holidays
On Strike For Christmas
Charlie Brown Christmas
The Christmas Chronicles
While You Were Sleeping
Christmas With The Kranks
The Grinch Who Stole Christmas
National Lampoon's Christmas Vacation
Wishing you all a happy holiday watching experience.