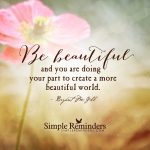 "The best way to create a better world" by Bryant McGill.
It all starts with us, by doing one thing different, one kind word, one hug, one idea.
We don't need to try and change the world all at once, but by doing something different that will connect you with another person. It could be something as simple as a smile.
What are you going to do today to make your world more beautiful?