Living in a stepfamily has its pains and rewards. Not everyone has issues with there stepfamilies just like "traditional" families are not perfect either. But one of the greatest pride a stepfamily can achieve is if they can manage to all come together, biological parents as well as stepparents and celebrate life's many magical moments. However, in order to get there, there are several steps needed in order to achieve this goal.
1. Set realistic expectations by creating a family vision. Having all members participate helps to see how the couple and the children view their new family. When creating a family vision, it helps everyone to have a road map of where they are now and where they are heading. It is a lot easier with instructions and a guide. Make it positive and realistic.
2. Find the courage to move forward. There will be days that you will be wondering what ever possessed you to get involved with someone with children. Realize that both of you have your strengths and weaknesses. Learn to work with all of them. If you believe that the person you are with is truly the one for you, then find the time to cultivate this relationship. Like a garden, relationships take time and attention to make it blossom.
3. The couple should come first. Why? Because without a strong couple, the family will face major issues that they may not be able to overcome. When hard times come, the couple needs to know that no matter what, they can depend on each other. When the couple functions as a team, the family goes smoothly. This is even more important when you are merging two families together. The leaders must be of one mind or the family will not stay together.
4. Get a support system is place. Stepfamilies have their own unique challenges and if you don't have some sort of way to get help, you will find it really difficult to maintain your family and your happiness. Find someone that understands your unique family either through a support group, a counselor, a pastor or friend. Having someone else to talk with, helps to see things in a different perspective.
5. A little humor and patience can go a long way. Learning to bit your tongue before lashing out words that you cannot retract will spare many guilty feelings. Learn to look at a situation through another set of eyes. Many times, children will say a comment that may have nothing to do with you but you take it personally. Kids do rolls their eyes and yes, it is annoying but truthfully, as long as it's not cursing or calling you names, decide just how important that is. Create a space for you to take a few moments to breathe before reacting. Ask yourself, if this were to be the last thing I ever said to this person, how important would it be?
When you feel loved, cared for, respected, and supported, you are more able to accept your step-children's other parent and view them as an extension of the family rather than a competition. When special moments in life occur, such a graduations, birthdays or weddings, it makes it easier for the children to be surrounded by all the people they love.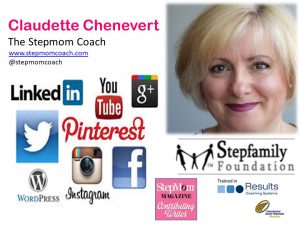 Claudette Chenevert, known as "The Stepmom Coach" provides advice, support and guidance to those women who are entering the "Instant Family" realm, feeling overwhelmed, misunderstood and isolated.
Claudette became a Master Certified Stepfamily Foundation Coach when she realized that too many women weren't getting enough help and support. In 1990, Claudette became a stepmom to two stepdaughters. She is also a mother to a grown son and grandmother of seven.
When she is not speaking to women's groups, or conducting many of her free webinars, she offers group and one-on-one coaching to women around the world. She is also a contributing writer for Stepmom Magazine. Claudette is an active participant on many Facebook groups and has her fan page at https://www.facebook.com/ClaudetteChenevert.StepmomCoach .
Any thoughts and comments you'd like to share? Post your comment below and we'll get back to you very soon.