One of the things I remember most about my school days were that we addressed teachers by Mrs. Miss or Mr. (Ms. wasn't used much then). The adults in our surrounding were also addressed in the same manner.
Saying please and thank you was second nature to us and it was always expected, no matter who was saying it. And holding the door open for someone else was common practice.
Today is National Courtesy day, a day to help us remember that how we treat others is more a reflection of our character and values.
Here's the thing: what we see as being courteous in our home, our community or our work environment may not be seen as the same for other groups. Courtesy is culture dependent.
Having said this, there are some basic and universal courtesies that are considered common around the world:
Please
Thank you
Proper hygiene
Respecting elders
Avoiding offensive gestures
Why Being Courteous Matters
I'm sure you've been around some rude, obnoxious person, someone who will push you just to be in front of you in a line, someone who doesn't say thank you or please whenever you do something for them.
How does that make you feel? Not very appreciated and most probably not respected. People judge us by the behavior we practice both in public and in private. This also means that people will hang around those they feel most comfortable with, along as being respected and valued. Courteous people tend to be surrounded by other courteous beings. It's worth it.
Since today is Common Courtesy Day, let's take a moment to become more aware and mindful of our interaction with others and extent some extra courtesy to those that might challenge us a bit more. When someone is being courteous to you, let them know. Acknowledge and reinforce the positive behavior.
Ways to be courteous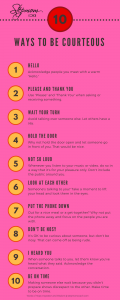 Here is some examples of how you can show courtesy towards others.
Everyone benefits.
See something on the floor? Why not pick it up.
Offer the last piece of candy or cookie to the other.
Open the door and let the other pass in front of you.
Acknowledge people you meet with a warm "Hello."
Use "Please" and "Thank You" when asking or receiving something.
Avoid talking over someone else. Let others have a say.
If you see someone who looks lonely, take a moment to talk with them.
Driving? Give someone a chance to go in front of you.
Don't wait to be told to take out the trash, fold your clothes or put the table on.
Put your dishes in the dishwasher. You'll be surprised at the impact this will have.
If you make a mess, clean up after yourself. Don't wait for someone else to do it.
You love music? Great! Use your headset when in public places so that others won't have to listen to it.
If you finished the pot of coffee, make a fresh one so others may enjoy it too.
Give up your seat to elders, pregnant women, or anyone in need of sitting down.
On your phone? Talk in a way that you're not including everyone around you in the conversation.
Don't talk or text during a movie in the theater or at concerts.
Don't take up all the space when sitting on the bus, the train or on a plane. Share the space with others.
Be mindful of the perfume or cologne you wear. A little will go a long way.
If you borrowed something, return that item in it's original (or better) condition than you received it.
Make promises sparingly and keep those you make.
Ask someone if they need help when crossing the street, putting on their coat or getting up from their seat.
What other  behaviors and acts of courtesy to you do? What would you like to see more of happening in your world?
Let me know below and I'll be sure to respond and be appreciative.
Source: https://www.timeanddate.com/holidays/fun/common-courtesy-day 
Are you in need of some Self-Care and Support? Check out my FREE Ebook on Self-Care For Stepmoms. Simply fill in your name and email and I'll send it to you right away.
content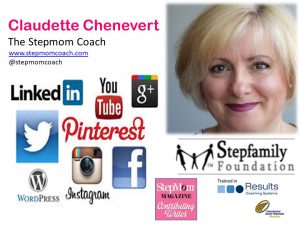 Claudette Chenevert  works with stepmoms struggling to create a cohesive family. As a Master Stepfamily coach, she provides education, support and tools enabling families to achieve their goals within a specific time frame,  often surpassing expectations. She helps you find what works best in your situation so that you will be able to create the kind of family you truly want. For more information about her programs and services, go to http://www.stepmomcoach.com