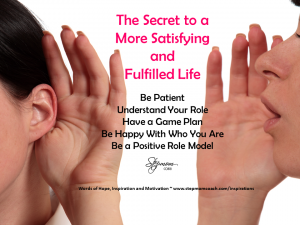 There are days when I'm sure you're wondering "What have I gotten myself into?" or maybe you're wondering if all the hassles of dealing with your spouse's kids, the exes, and fighting your way into being accepted is just too much to handle.
Successful and happy stepmoms practice several habits that make being a bonus mom rewarding and fulfilling. Although they may seem simple, don't be fooled. You will be amazed by the impact these habits will have on you as well as on others.
 Patience. It takes time to create trust where trust was broken. Kids believe that mom and dad will be there for them for an eternity. When the family breaks down, that trust and belief is broken, making kids wonder whom to trust.
Know/understand your role. Studies repeatedly show that the women who know and understand what their role is in stepfamilies are the happiest. This builds resilience for when more challenging days come crashing in.
Have a game plan. If you have no vision, how do you know you are doing well? How do you measure if you are making progress? How do you determine you're on the right path? It's like driving a car with blinders on while having your kids in the back seat. Would you dare do that with your children? Have a plan.
Be happy with who you are as an individual. One of the best gifts you can give others is to take care of yourself. Love starts from within and then flows out, not the other way around. Think of the oxygen mask instructions when you take the airplane. "You must first put the mask on you, THEN help younger ones." If you're depleted, how do you expect to be of use to anyone else?
Be a positive role model. We constantly look for people to emulate. That's probably why so many people enjoy watching TV shows or reading certain magazines. Who is the next big star? How about you? Don't you think your kids deserve to have someone to look up to? Wouldn't it be great if that person is you? Children will imitate those with whom they feel a close tie. Make it you.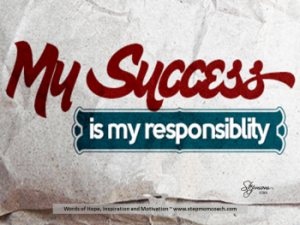 Practicing these five simple steps requires you to make them a priority in your life and your relationships. Marriage and family are created and maintained. They don't just materialize out of nothing. Write down something you can do for each of these steps and commit to them on a daily basis. You'll be on your way to having a more satisfying and fulfilled life and stepmom relationships.
Need additional help and support in knowing how to be a happier stepmom? Download my free ebook on Self-Care for Stepmoms. Just fill in your name and best email address and I'll send it right over.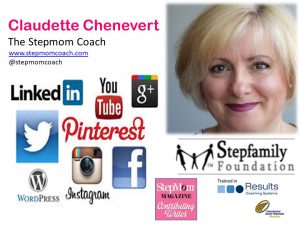 Claudette Chenevert works with stepmoms who are struggling to create a cohesive family. As a Master Stepfamily coach, she provides education, support and tools enabling families to achieve their goals within a specific time frame,  often surpassing expectations. She helps you find what works best in your situation so that you will be able to create the kind of family you truly want. For more information about her programs and services, go to http://www.stepmomcoach.com